Wednesday, January 26, 2005
BBC NEWS | Science/Nature | Turin shroud 'older than thought'
(link opens in a new window):
"The Shroud of Turin is much older than suggested by radiocarbon dating carried out in the 1980s, according to a new study in a peer-reviewed journal.

A research paper published in Thermochimica Acta suggests the shroud is between 1,300 and 3,000 years old.

The author dismisses 1988 carbon dating tests which concluded that the linen sheet was a medieval fake.

The shroud, which bears the faint image of a blood-covered man, is believed by some to be Christ's burial cloth."
I am just a bit wondering about the link to this story in the BBC main page. The story says that "the shroud is between 1,300 and 3,000 years old;" however, the link says:
" Turin Shroud could be up to 3,000 years old, scientist says."
Knowing that those who "believe it's Christ's burial cloth" would claim its age is 1970 years, I am wondering whether the "up to 3,000 years old" may be biased toward diluting the believers' claim.
Tuesday, January 25, 2005
CNN.com - Reporter fired for Yahoo baby hoax - Jan 24, 2005
:
"BUCHAREST, Romania (Reuters) -- A Romanian tabloid says it has fired a reporter for making up a story about a couple who named their son Yahoo as a sign of gratitude for meeting over the Internet.

Earlier this month, major Bucharest daily Libertatea published a story saying two Romanians had named their baby Yahoo and printed a picture of his birth certificate. The news was widely picked up on the Internet.

'It was the reporter's child's birth certificate, which he modified,' said Simona Ionescu, Libertatea's deputy editor-in-chief. 'We fired him.'"
Monday, January 24, 2005
BBC NEWS | Middle East | US 'terminates' Iranian website:
"Iran has accused the US government of ordering an American internet service provider to stop hosting the website of an official Iranian news agency.

The Iranian Student News Agency said no explanation had been given by the server, called The Planet, for its abrupt move to terminate the contract.

Isna, which is widely read in Iran, says it has moved to another server, which it did not name.

The Planet was unable to comment immediately on the allegations.

The row has led to calls for Iran to develop its own satellite technology.

Isna said it had received an e-mail from The Planet warning that the website would be terminated within 48 hours and that the decision was final and non-negotiable."
Saturday, January 22, 2005
BBC NEWS | Entertainment | Tycoon Trump to wed a third time
"Billionaire Donald Trump is to marry for the third time in a ceremony attended by the US celebrity elite.
The New York entrepreneur and property magnate will tie the knot with his girlfriend of six years, Slovenian model Melania Knauss, on Saturday.
The wedding, to be held at Mr Trump's mansion in Palm Beach, Florida, is the subject of intense media coverage.
Clint Eastwood, Muhammad Ali and Sir Elton John are expected among the 500 guests - but not the two ex-Mrs Trumps.
The man the Americans call 'The Donald' has built a fabled reputation on the back of his recent reality TV show, The Apprentice, and a series of huge property deals.
The latest Mrs Trump, a 33-year-old Slovenian-Austrian, already wears a 15 carat diamond engagement ring worth some $1.5million (£800,000) "
Thursday, January 20, 2005
BBC NEWS | Middle East | Boy with toy gun shot by Israelis
: "Israeli soldiers have shot dead a Palestinian boy who was playing with a toy rifle, after apparently mistaking him for a gunman.
Troops patrolling Tubas, a West Bank village near Jenin, fired at the boy, aged 13 or 14, after he aimed the toy weapon at them, witnesses said.
He was with a group of children who were taunting the soldiers.
An Israeli military source confirmed troops had opened fire on a crowd after spotting what appeared to be a gunman.
Palestinian medical sources said the boy, Salah Ikhab, died in an ambulance on his way to hospital after being shot in the chest.
Witnesses and medical sources told the AFP news agency the boy had been given the toy as a present for the Eid holiday.
Israeli troops in Gaza also shot and killed a 13-year-old boy, Salah Abu Alaes, as he was walking with his family near the entrance to Rafah's sprawling refugee camp, Palestinian hospital officials said."
Wednesday, January 19, 2005
Tuesday, January 18, 2005
Sunday, January 16, 2005
"الأربعاء, 12-يناير-2005"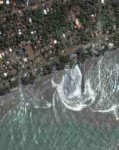 المؤتمر نت - صور بالاقمار الاصطناعية المؤتمر نت - تدور بين مسلمي سريلانكا أحاديث بأن أسم الجلالة "الله" ظهر على أمواج تسونامي التي ضربت سريلانكا وعددا من دول جنوب وجنوب شرق آسيا في 26 ديسمبر الماضي، وإن الله أرسل تلك الأمواج عقابا للبشر.
ونقلت تقارير صحفية عن محمد فايزان، مدير مركز الدراسات الإسلامية في كولومبو قوله إن الدليل هو صور التقطت بالأقمار الاصطناعية بعد ثوان من الأمواج العاتية التي ضربت الساحل الغربي من سريلانكا قرب بلدة كالوتارا أثناء تراجعها إلى البحر.
وقال فايزان إن الصور تظهر بوضوح كلمة "الله" بالعربية، وكانت الصور التقطت بالقمر الصناعي "ديجيتال غلوب كويك بيرد" بعد دقائق معدودة من وقوع المد البحري.
وقال فايزان لقد كتب الله اسمه، وأرسل عقابه على تجاهل شريعته، وشبه المد البحري المدمر بالفيضانات التي أرسلها الله في عهد نوح كنوع من العقاب لمن ضلوا عن سبيله.
وقال فايزان إنه زار قرية يدين معظم سكانها بالإسلام ووجد المدرسة الدينية سليمة فيما دمرت البيوت التي حولها وعددها 400 بيت، وقال إن المناطق التي يدين معظم سكانها بالإسلام في سريلانكا كانت الأكثر تضررا وأن الأمواج استهدفت المسلمين في إندونيسيا وسريلانكا اللتين ضلتا عن سبيل الله، على حد تعبيره.
Saturday, January 15, 2005
BBC NEWS | Americas | Bush says regrets talking tough (link opens in a new window)
: "US President George W Bush has pledged to be more diplomatic in future, saying he realises that talking tough can sometimes send 'wrong impressions'.
...
'I speak plainly sometimes, but you've got to be mindful of the consequences.'
*
In what has become a notorious occasion, Mr Bush words sparked outrage in July 2003 when he appeared to directly challenge insurgents fighting in Iraq."
* Emphais mine
BBC NEWS | Americas | US military pondered love not war
"The US military investigated building a "gay bomb", which would make enemy soldiers "sexually irresistible" to each other, government papers say.
Other weapons that never saw the light of day include one to make soldiers obvious by their bad breath.
The US defence department considered various non-lethal chemicals meant to disrupt enemy discipline and morale.
The 1994 plans were for a six-year project costing $7.5m, but they were never pursued.
The US Air Force Wright Laboratory in Dayton, Ohio, sought Pentagon funding for research into what it called "harassing, annoying and 'bad guy'-identifying chemicals".
The plans were obtained under the US Freedom of Information by the Sunshine Project, a group which monitors research into chemical and biological weapons. "
Friday, January 14, 2005
BBC NEWS | Europe | Prague cab takes mayor for a ride
: "
Extcerpt:
Prague's mayor has had the chance to see for himself whether the many accounts of city taxi drivers ripping off unsuspecting tourists are true.
Posing as an Italian visitor, in a fake moustache and sunglasses, Pavel Bem hailed a taxi for a short ride - and was promptly overcharged by some 500%.
Mr Bem said he was shocked by the extent of the problem and has vowed to step up controls on taxi drivers. "
How many mayors are ready to take such risks?
Saturday, January 08, 2005
المقال كاملاً:
ـ GMT 8:45:00 2005 السبت 8 يناير ماريان جورج ـ


كانت أمنيتي أن أزور جزر المالديف.. إستضافتني تلك الجزر الجميلة في زيارة طويلة خلتها لحظات علي الإنترنت.. و إشتريت لي جزيرة، بنيت فيها كوخا.. و مددت أرجوحة بين نخلتين.. و لم أنس طبعا الكلب لكي يكتمل المشهد و تكتمل سعادتي، و وقتما يذكر "المالديف" تسألني أمي مازحة "مش ناوية تسافري السنة دي تشقري علي جزيرتك؟" أقولها "الواحد رمي فلوس علي الأرض.. إشتري و بني و مفيش وقت"..
و غرقت جزيرتي..
حاولت تخيل أناس جالسين "في أمان الله" تبتلعهم مياه!!
مشهد قاسي و مؤلم.. لو كان فيلما لأبكاني.
في نفس اليوم وصلتني رسالة إلكترونية تعلن أن البنك الذي أعمل به تبرع بمبلغ ثلاثة مليون دولار لصالح الضحايا، و فتح رابط إلكتروني لكل العاملين به علي مستوي العالم لنفس الغرض.. لفتة جميلة و حضارية.
كنت أقرأ الرسالة متأثرة، و تحولت بالحديث لزميل لي.. وجدته يضحك كما لو كان إسماعيل ياسين بعث حيا.. "ما هو من اللي بيعملوه.. أنت أصلك مش عارفة هم بيعملوا إيه هناك!! هم لو ناس محترمة مكانش ربنا عمل فيهم كدة، و من أعمالهم سلط عليهم".
للأسف هذا ليس رأي زميلي وحده، بل الكثيرين.

إيه القرف ده؟؟
و لم أقو علي المناقشة، فمجرد المقارعة يعطي الكلام وزنا.. و هو لا يستحق.
و أجدني مرة أخري رغما عني أقارن بالحيوانات.. الحيوان لا ينفد بجلده من الخطر و تبا للجميع، إنما يحذر البقية و يجد في الكثرة حماية و دفئ و مؤانسة.

من أنت يا من تستمرئ الكوارث و تفلسفها و تخضعها لآرائك المريضة؟
ربط الدين او "التدين" بكل ما يحدث سيودي بتلك الأمة لقاع الجحيم، من سيشفي هؤلاء من هذا الأفيون و من تلك الحماقة؟ من يستطيع أن يزرع فيهم أن الدين ليس مسكنا لنقائصك و غطاءا لعاهاتك و منفاخا لدونيتك.
متي سنوقن أننا الأكثر تخلفا و الأفقر و الأكثر عنجهية و غرورا؟
متي سنسقط تلك الورقة التي نخفي بها عوراتنا عن الآخرين إلي الحد الذي صدقنا معه أننا "إيه وان" فرز أول بلا عيوب؟

يبدو أن الكلام بقي في البدنجان!! نحتاج قنبلة كاليابان أو زلزال كجنوب شرق آسيا لنعرف أن الله حق.

ماريان جورج- القاهرة.
ـ

Wednesday, January 05, 2005
الخبر في صفحة جديدة: من ميدل إيست أونلاين
رئيس مركز ابن خلدون يعتزم بدء حملة لجمع مليون توقيع لتعديل الدستور ليسمح بالاختيار المباشر للرئيس المصري.
ميدل ايست اونلاين
القاهرة - من منى سالم
اعلن سعد الدين ابراهيم احد الخصوم الرئيسيين لنظام الرئيس المصري حسني مبارك رغبته في الترشح لمنصب رئيس الجمهورية مدشنا بذلك عاما انتخابيا يتوقع ان يكون ساخنا.
وقال سعد الدين ابراهيم وهو استاذ اجتماع سابق في الجامعة الاميركية بالقاهرة ورئيس مركز ابن خلدون للدراسات الانمائية (الذي يعمل في مجال الدفاع عن حقوق الانسان وتنمية الديموقراطية) ان "لديه الرغبة في الترشح لانتخابات الرئاسة" ولذلك سيطلق مع مرشحين آخرين هما الكاتبة نوال السعدواي والنائب السابق محمد فريد حسنين حملة من اجل تعديل الدستور حتى يتم اختيار رئيس الجمهورية بالانتخاب الحر المباشر بين اكثر من مرشح".
وتهدف الحملة لجمع مليون توقيع على نداء سيوجه الى مجلس الشعب للمطالبة باجراء هذه التعديلات الدستورية.
Middle East Times
"HONG KONG -- As the world tries to make sense of Asia's tsunami disaster and its massive toll on humanity, clerics of all religions are grappling with an age-old theological question that challenges even the most faithful believers: How could God let this happen?

The earthquake and tsunami showed no favor, wiping out Buddhist, Hindu and Muslim villages in Sri Lanka, inflicting enormous casualties in mostly Islamic Indonesia, and devastating parts of strongly Buddhist Thailand, where Christian and Jewish tourists also perished.

"It was as if God had unleashed his anger on the people," Muslim victim Haji Ali said the day after tsunamis destroyed his hometown Bireuen in Indonesia's Aceh province, the area worst affected by the Indian Ocean disaster.

But is the explanation that simple?

Last week's catastrophe has revived a debate which raged in Europe after the 1755 Lisbon earthquake, one of the eighteenth century's worst natural disasters that led many figures of the enlightenment such as Voltaire to question the existence of a God who allowed such catastrophes.

The question then was why should Lisbon be so abominably cursed? The question now is: Why Asia?

"Allah has his own way," said K.H. Ma'aruf, chairman of the Indonesian Council of Ulema (MUI), the highest authority on Islam in Indonesia, adding that as "humble humans, there is no way that we can comprehend his infinite wisdom".

"A true believer should believe that his fate and those of others are entirely in the hands of Allah. If their loved ones were killed in the disaster and they survived, it is because of Allah's will," he said.

In the staunchly Muslim province of Aceh nobody appeared to have lost their faith - survivors recited holy Koranic verses while looking for lost relatives or staying at refugee shelters.

Whatever their religion, people throughout Asia's affected areas turned to their respective God to help them through the crisis and give praise for "miracles".

While Muslims in Aceh attributed the survival of dozens of mosques dotted across the wasteland to divine intervention, rather than the mosques' sturdier architecture, Catholics in the southern Sri Lankan town of Matara celebrated the return of a miracle statue that vanished during the tsunamis and that believers credit with keeping the sea at bay for 10 to 15 minutes after the first wave hit.

In India Hindu clerics hurriedly performed religious rites for victims whose bodies were found and comforted grieving relatives.

"People are saying that this phenomenon is the annoyance of god, but it is not so," said Hindu cleric Madambakkam Sreenivasa Bhattacharyar, chief priest of the famous Tirupati Tirumala Temple in tsunami-scarred southern India's Tamil Nadu state.

"It is a natural phenomenon that has manifested because of a multitude of human mistakes on sky, earth and water. Religious law says that the natural forces change direction because of these mistakes," he said.

"This kind of disaster also happens to tell the people of the existence of a superpower. But just like in a game of carrom when you hit a coin, others get hit, the innocent and sinful both get affected. It is not a test of faith," he said.

As a nontheistic religion Buddhism has no God to whom to attribute the terrible events, but the earthquake is still viewed as a punishment humans have brought upon themselves, a Buddhist expert said.

"We have destroyed nature, being selfish and greedy and only aiming for more prosperity, but never realizing that we and nature are one," said Sulak Sivaraksa in Bangkok.

The tsunamis were a warning from nature that humans have been unkind to it, he said, just as environmentalists have explained the loss of life by saying too many properties were built at the shores' edge, urging people to learn the lessons and to live in harmony with nature.

From Europe to Australia the question of God's role provoked a multi-faith debate.

In Vatican City Pope John Paul II told thousands of Roman Catholics gathered on Sunday in St Peter's Square that God had not abandoned people, calling the calamity "the most difficult and painful of tests".

In London the Archbishop of Canterbury, head of the 70-million strong worldwide Anglican church, said that it was inevitable that people would question their faith but that belief had "survived tests again and again, not because it comforts or explains but because believers cannot deny what has been shown or given to them".

But many Christian, Jewish and other religious leaders rejected suggestions that the earthquake was divine wrath.

Asked if the people who suffered were being punished, the Anglican bishop of South Sydney in Australia, Robert Forsyth, said: "I think almost certainly not."

"Even Jesus died complaining to God," he said.

The disaster raised other awkward questions for clerics.

What of the souls of those deprived a ritualistic burial? Those interred in mass graves, buried forever under rubble, or lost at sea?

The Fatwa Commission of Indonesia's MUI has decreed that the victims of the disaster in Aceh were martyrs and therefore whether they were properly buried or not was no longer important for the soul of the deceased.

But for followers of all faiths, God's command to help others was perhaps the easiest to understand and to follow.

"We [MUI] have sent our volunteers to Aceh along with aid in the forms of food, medicine and clothes," said Ma'aruf. "We are also trying to help efforts to gather and take care of the orphans of the disaster."

Along the Sri Lankan coast Catholic priest Nihal Nanayakkara has worked day and night since the tsunami struck, offering shelter and help to victims and conducting funerals and memorial services.

"I strongly believe that God is giving us this strength," said the sleep-deprived priest.

And around the world people of all faiths, as well of those of no theistic faith, continued to donate staggering sums to help the many millions the disaster affected, most without considering to which God those victims pray. "
Saturday, January 01, 2005
من جريدة إيلاف: بيان للأقباط المصريّين في المهجر
(سيفتح الرابط في صفحة جديدة)ـ
GMT 23:30:00 2004 الجمعة 31 ديسمبر إيلاف

"إيلاف": أعلنت الجمعيات والمنظمات ونشطاء الأقباط المصريين في الخارج تبرؤهم من جمعية تطلق على نفسها اسمها "الجمعية الوطنية القبطية" National American Coptic Assembly ويرأسها شخص اسمه موريس صادق ، نشرت بعض الصحف المصرية بيانا قال فيه إنه أرسل لآريل شارون رئيس الوزراء الإسرائيلي خطابا يطلب منه التوسط لحل مشاكل الأقباط في مصر.
وقال هؤلاء النشطاء في بيان لهم إن الأقباط في الخارج يعلنون بكل وضوح أنهم ليس لهم صلة بهذه الجمعية ونشاطها المعزول تماما عن النشاط القبطي في المهجر.
وأضافوا في بيانهم أن الادعاء باتصال فرد ما أو منظمة ما بإسرائيل أو غيرها هو أمر خارج نطاق القضية القبطية العادلة التي لم تلق الاهتمام الواجب من الدولة في مصر . والقضية القبطية واضحة المعالم وتتعلق بانتهاكات جسيمة لحقوق الإنسان والمواطنة ولمواطنين مصريين، ومطالب الأقباط الحالية سواء في الداخل أو الخارج لا تتعدي حقوق المواطنة الكاملة، غير المنقوصة والتي تعني وطنا موحدا تتساوي فيه الحقوق والواجبات للقبطي والمسلم . إن وطنية الأقباط متجذرة في التاريخ ولا يستطيع أحد أن يزايد علينا أو يعطينا دروسا في الوطنية .
هذا البيان الواضح من الجمعيات والمنظمات وأعضائها ومن نشطاء الأقباط في الخارج بأننا ليس لنا علاقة بهذا الشخص ورفاقه ولا بهذه الجمعية ونشاطها وبياناتها المستفزة التي تعطي ذريعة للغوغاء لمهاجمة الأقباط والشوشرة على مطالبهم العادلة والتطاول على أقباط المهجر وإرهاب أقباط الداخل .
ـ